Air Ambulance, Medical Air Transport and Medical Evacuation
Menkor Aviation has solid experience in arranging air medical services: medical air transport, medical evacuation and medical repatriation. Whether for patients and their families, healthcare providers or insurance companies, our team is competent and available 24/7 to provide you with a medical flight.
Our Air Ambulance Solutions
Medical Repatriation
Menkor Aviation is able to charter air ambulance to quickly repatriate civilians from dangerous areas, victims of natural disasters or patients who need to be repatriated to their country urgently. An ambulance jet enables fast repatriation and immediate care of the patient. Whether you have experienced injuries, illness or trauma while abroad, our medical crew is experienced in repatriating patients safely back via air ambulance.
We have access to ambulance aircraft all over the world. We charter a plane in just a few hours.
Bed to Bed Transportation
Our team can organize a "bed to bed" transportation. We provide the ambulance transfer between the hospital and the departure airport, the flight by ambulance plane, and the last ambulance transfer between the arrival airport and the destination hospital.
Transfers can be done by ambulance or helicopter.
The patient is transported under the best conditions and under the constant supervision of a competent medical team.
Air Transport of Patient with Infectious Disease
We have access to a fleet of ambulance aircraft capable of transferring patients with highly infectious diseases, such as the coronavirus covid-19. These medical aircraft have a stretcher in the form of a portable isolation chamber which allows a patient to be transported without the risk of air contamination. They are also equipped with intensive care equipment such as ventilator and anaesthetic machine.
The transfer of the contagious patient is carried out under the supervision of a medical team experienced in this type of transportation.
Air Transport of Critically ill Patient
Intensive care patients are patients whose survivor functions are impaired and who need further intensive medication, close follow-up and care. In case of an urgent need to transfer a critically ill patient, our team quickly charters a ambulance aircraft. The plane is equipped with all the intensive care equipment as in Intensive Care Unit, allowing optimal and continuous care throughout the duration of the flight. We dedicate a medical team experienced in intensive care and air transfer.
Pediatric and Neonatal Air Transport 
A child who must be transferred to receive appropriate care in another hospital must be transported under the best possible conditions. We charter an air ambulance dedicated to pediatric transport. A pediatric medical team accompanies the child during the flight to maintain continuous care.
In the event of a premature birth, we can provide a medical aircraft equipped with an incubator. The premature child is transferred in the best possible conditions with newborn intensive care professionals. 
Air Transport of Blood Reserves, Human Organs and Drugs
An ambulance aircraft is the most reliable and fastest means of transport for the transport of human organs for transplant, blood reserves or urgent medicines.
Our team has access to planes dedicated to this kind of transport all over the world. We charter the plane that best meets your needs as fast as possible. We can also charter helicopters for transfers from hospitals or laboratories to airports, and vice versa.
We are fully dedicated to provide a fast and efficient transfer.
Ambulance Helicopter
To evacuate a patient from a hard-to-reach area or make a transfer between two hospitals, Menkor Aviation can dispatch a ambulance helicopter. These helicopters are equipped with medical and intensive care equipment. They allow rapid transfer and continuous medical care of the patient.
We have worldwide coverage for chartering this type of helicopter.
Medical Travel
Some patients opt to have a surgery abroad, often for cosmetic or plastic surgeries. Our team can charter a private jet to facilitate travel. The private jet brings comfort, speed and discretion to the patient.
We can provide the services of a nurse to provide care during the return flight.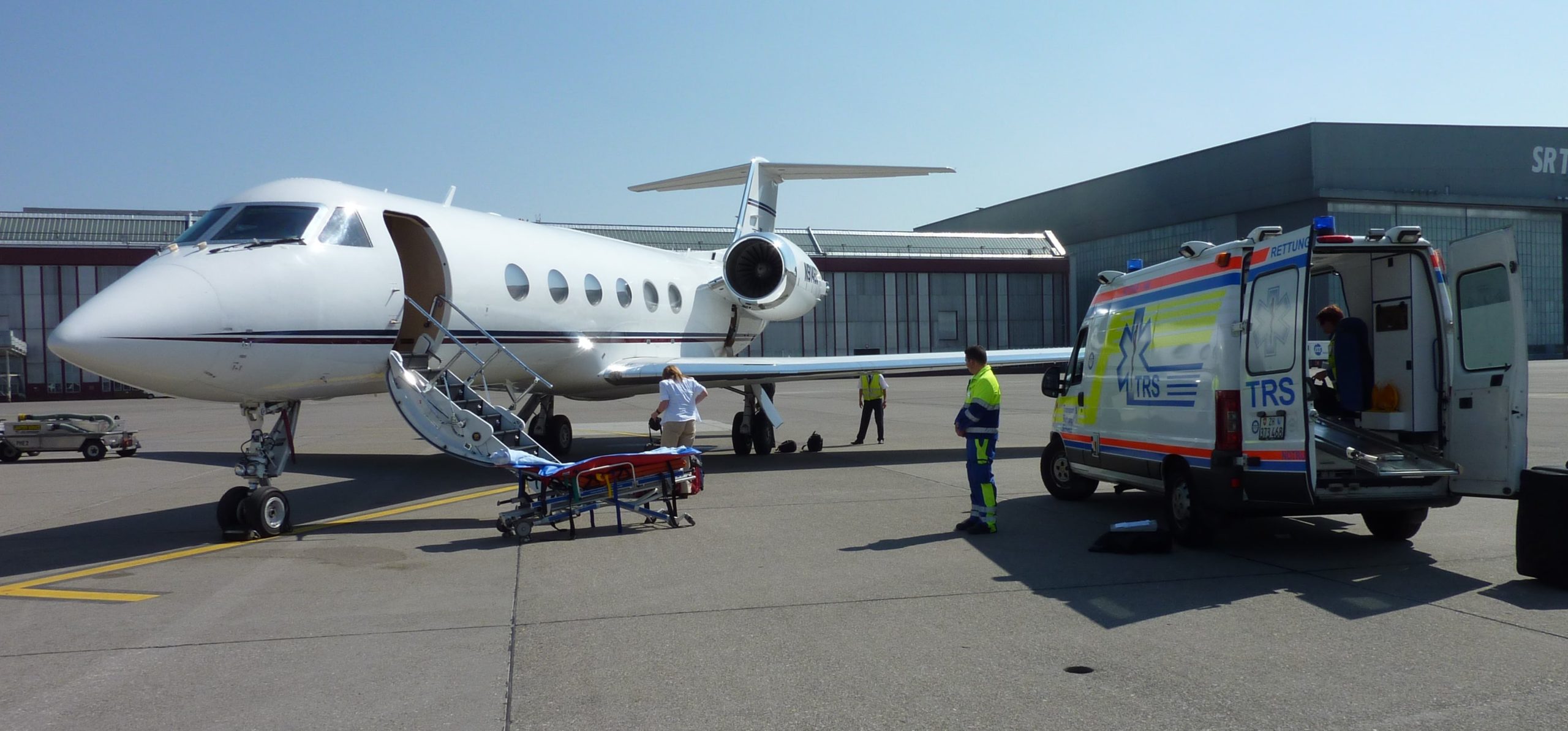 What is an Air Ambulance Aircraft ?
An ambulance aircraft (also called air ambulance) is an aircraft dedicated to the medical transport of patients. The cabin is specially adapted and approved to provide medical care and intensive care.
An air ambulance is the safest option for transferring a patient. It allows rapid transport, brings a precious level of comfort, and offers continuous medical care. Chartering an ambulance aircraft also allows you to have complete flexibility as to the route and the flight schedules. It can also land on small airports and in areas that are difficult to access.
An air ambulance can be a turboprop aircraft, such as the Pilatus PC-12. This type of aircraft is ideal for a regional medical transfer.
It can also be a long-haul private jet, such as a Falcon 2000. These jets are capable of transporting patients over very long distances.
The medical plane has all the necessary medical equipment for a safe transfer:
– Communication system to continuously link the in-flight medical team to a ground medical team
– Air pressurization system that adapts to patient injuries
– Patient warming system
– Intensive care stretcher
– Multiparametric monitoring monitor (EGC, blood pressure, pulse oximetry, capnography, temperature measurement)
– Medical oxygen generator
– Intensive care ventilator
– Surgical suction pump 
– Biphasic defibrillator and artificial cardiac pacemaker
The medical equipment is prepared before the flight depending on the patient to be transferred and the care required.
Who is the Medical Team Accompanying the Patient in Flight ?
We can instruct a medical team to take care of the patient and provide him with the necessary care throughout the transfer. The medical team is often composed of a doctor and a nurse, but we adapt the workforce according to the care to be provided.
At Menkor Aviation, we are committed to providing an irreproachable quality of care to our customers. We only choose health professionals who are experienced in medical air transport. Our international network is made up of specialists from all health areas : intensive care, pediatrics, infectious medicine, cardiology, etc.
The medical team takes note of the patient's health file before the flight and contacts the doctor or hospital currently in charge. They determine the medical care to be given during the flight and prepare the necessary medical equipment. Everything is done to ensure that the patient is transferred in the best possible conditions.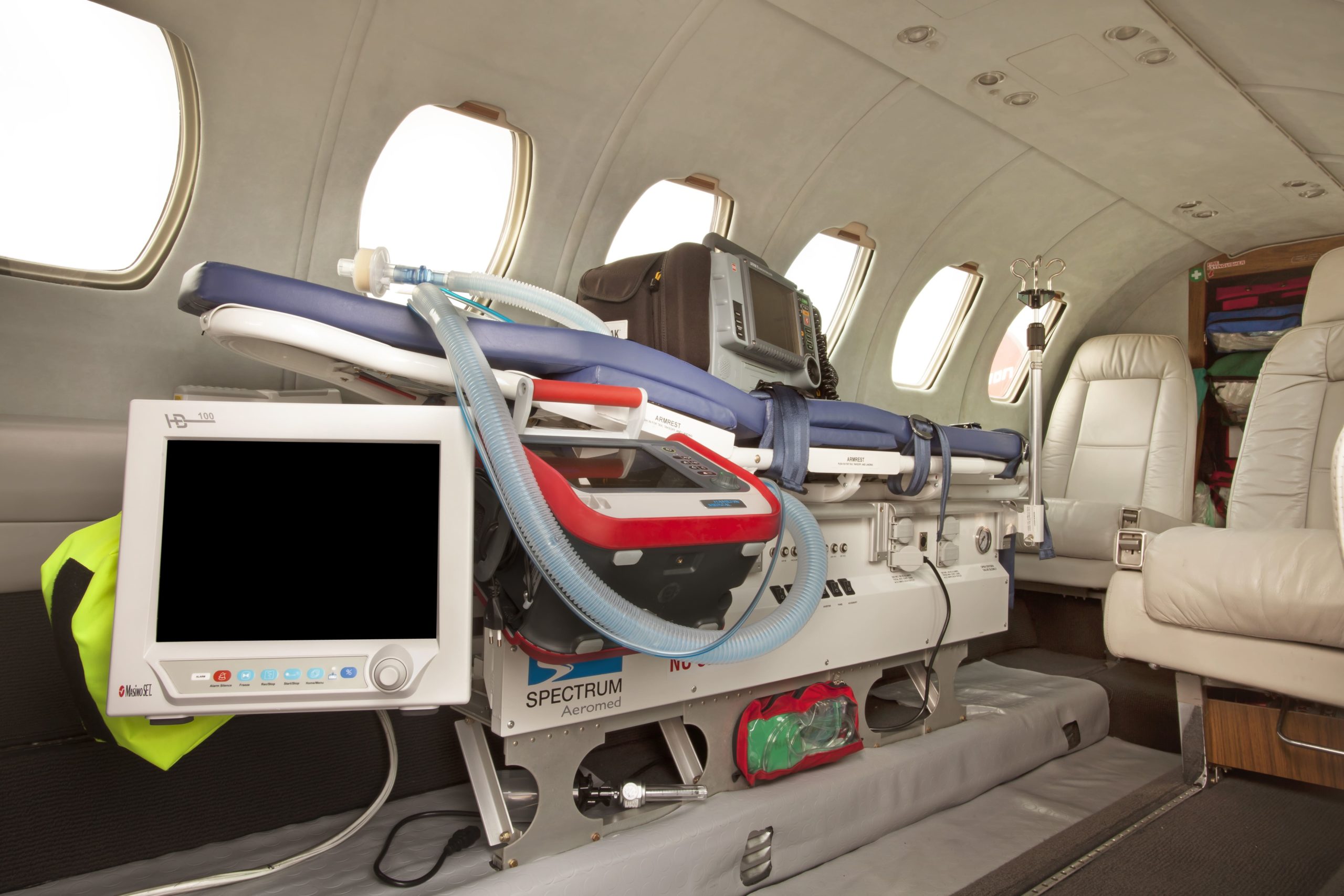 How to Organize a Medical Air Transport ? 
Our team finds the best solution within hours of your call.
In order to organize a quick and efficient medical flight, we ask you to send us the following information:
– A copy of the patient's medical record and passport
– The contact details of a support person (parent, relative, treating doctor, insurer …)
– The contact details of the doctor or hospital currently in charge of the patient
– The contact details of the doctor or hospital who will receive the patient
Depending on the type of medical air transport, other information may be requested.
The support person will be regularly informed of the progress of the transfer.
Charter an Air Ambulance with Menkor Aviation
→ Availability: At Menkor Aviation, we are ready 24/7 to charter a medical aircraft.
→ Global coverage: We can organize medical transport by plane anywhere in the world.
→ Expertise: Our team is trained and experienced in medical air transport, medical evacuation and medical repatriation
→ Large fleet: We have access to a large fleet of ambulance planes around the world. We can meet all your needs.
→ Network of healthcare professionals: We have built an international network of healthcare professionals of all specialties to meet all your needs, wherever you are.