Charter an Embraer Phenom 100
The Embraer Phenom 100 private jet is available to charter through Menkor Aviation.
The Phenom 100 is a very light private jet designed by the Brazilian aircraft manufacturer Embraer. The aircraft first flew in 2007. It has been produced in Melbourne, Florida, since 2011.
It stands out in its category by the power of its engines, two Pratt & Whitney Canada PW617F-E. These engines allow the Phenom 100 to take-off on short runways and to cruise over any weather disturbance at 41,000 ft (12,500 meters) above sea level.
This private jet is equipped with an all-screen Prodigy Touch Flight Deck 100 cockpit, designed in partnership with Garmin. This cockpit is equipped with the latest technologies, such as synthetic vision, and makes this business jet a very safe aircraft.
The Phenom 100E model was introduced in 2013 with the addition of multi-function spoilers that improve its flight capabilities. The latest Phenom 100EV Evolution model was introduced in 2017. This model is lighter, it has two more powerful Pratt & Whitney PW617F1-E engines, and a more modern all-screen cockpit with the Garmin 3000 avionics system. 
The cabin of the Phenom 100 was designed by BMW Designworks USA. It has 4 seats, a refreshment area and toilets. The seats tilt, swivel, move forward and backward, providing the best possible comfort. Each seat is equipped with a communication system directly linked to the pilots. These features make the Phenom 100 one of the most comfortable light private jets for short-haul flights.
– Spacious and confortable cabin 
– The largest baggage compartment in its category
– Economical solution
Specification of the Phenom 100
Manufacturer

Seats

4

Lavatory

Yes

Luggage Capacity

67 cu.ft | 1,89 m³
Model

Phenom 100

Speed

410 kts | 760 km/h

Cabin Height

4.95 ft | 1.51 m
Category

Small Jet

Range

920 nm | 1704 km

Cabin Width

5 ft m | 1.55 m
Phenom 100 Charter
Submit your flight request via our online quote form.
Take-off in less than 2 hours.
Purchase or Sell a Phenom 100
Tell us your wish to acquire or sell.
Get support in the process.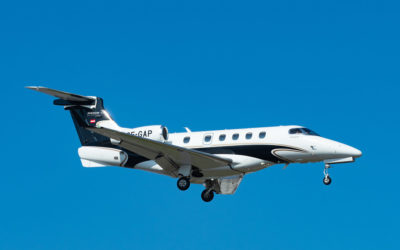 Charter an Embraer Phenom 300Embraer Phenom 300 private jet is available to charter through Menkor Aviation. OverviewThe Phenom 300 (EMB-505) is a light private jet designed by Brazilian aircraft manufacturer Embraer. It first flew in 2009. It is a larger and more...