Charter a Cessna Citation Excel (XL)
The Cessna Citation XL private jet is available to charter through Menkor Aviation.
Overview
The Cessna Citation Excel (560XL) is a comfortable private jet built by the American aircraft manufacturer Cessna. Announced in October 1994, it flew for the first time in February 1996.
The Citation XL is from the Citation Family range. This prestigious range of private jets is the best-selling in the world with more than 910 aircraft on the market.
This Cessna business jet is powered by twin PW500 turbojets that deliver up to 4,080 lbf (18.1 kN) of thrust. They allow to fly at 433 kts (801 km/h) when cruising.
With a range of 3,200 km (1,727 nm) and one of the largest baggage compartments in its class, the Citation Excel is an ideal jet for business and family travel. It allows you to reach London to Mykonos or even Paris to Moscow non-stop.
The cockpit is equipped with a Honeywell avionics suite. Cessna is known to provide a high level of safety with its private jets, thus always two pilots fly the XL.
The Citation Excel is a remarkable business aircraft that offers an excellent compromise between speed, comfort and cost. Many XL's are for hire around the world. Menkor Aviation allows you to hire one of them at any time for your travels.
Cabin
The Citation XL has the most spacious cabin in its class. Although it can accommodate up to 10 passengers, it is often designed to comfortably accommodate 6 to 8 people.
The cabin, known to be quiet, has a fully equipped mini-bar and toilet. The seats recline 180 degrees, allowing you to sleep in the comfort of a real bed during flight.
In addition to a luggage compartment in the cabin, the Citation Excel's hold is one of the largest in its category. These advantages allow you to travel comfortably with a large amount of luggage. A Honeywell-designed auxiliary power unit (APU) keeps the cabin air conditioning on the ground when the engines are off.
The Citation XL cabin is ideal for all your short and medium-haul trips.
Benefits
– Large baggage compartment
– 180 degree reclining seats
– Lavatory
Specification of the Cessna XL
Manufacturer

Cessna

Seats

Up to 10

Lavatory

Yes

Luggage Capacity

90 cu.ft | 2,55 m³
Model

Citation Excel (XL)

Speed

433 kts | 802 km/h

Cabin Height

5.68 ft | 1.73 m

Hourly Rates

3200$ | 2600€ | 2300£ /H
Category

Medium Jets

Range

1727 nm | 3200 km

Cabin Width

5.12 ft | 1.68 m
Citation XL Charter
Submit your flight request via our online quote form.
Take-off in less than 2 hours.
Purchase or Sell a Citation XL
Tell us your wish to acquire or sell.
Get support in the process.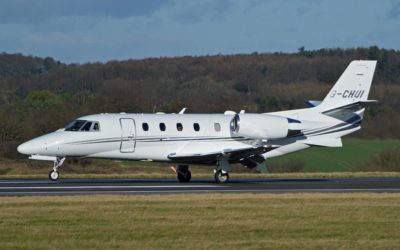 Charter a Cessna Citation XLS+ The Cessna Citation XLS+ private jet is available to charter through Menkor Aviation.Overview The Cessna Citation XLS +, or simply "plus", is the latest and most advanced model in Cessna's mid-size private jet range. This private jet...