Charter a Pilatus PC-24
The Pilatus PC-24 private jet is available to charter through Menkor Aviation.
Overview
The PC-24 is a private jet of the Swiss manufacturer Pilatus. Entered into service in 2015, this "super versatile jet" is known to be able to land and take off on short, rough runways. It can take off in less than 2,930 ft (893 meters) on all types of runways, whereas it typically takes 4800 ft (1,465 meters) for a light private jet.
Its landing gear is reinforced to withstand the irregularities of unpaved runways. Two Williams International FJ44-4A turbojets propel the PC-24, each with a thrust of 3420 lbf. They fear neither rubble nor dust.
In terms of range, the PC-24 can fly up to 2000 nm (3704 km). This range is much greater than that of jets in its category, it allows the PC-24 to connect non-stop cities like Paris to Jerusalem or Los Angeles to Washington.
The Pilatus PC-24 is the ideal aircraft for your small group trips. Menkor Aviation allows you to rent a PC-24 anytime anywhere in the world.
Cabin
The PC-24 has an exceptionally spacious cabin. Designed to accommodate up to 11 passengers, it is generally configured with 6 to 8 comfortable seats. At 5 ft 1 in (1.55 m) high and 5 ft 7 in (1.70 m) wide, passengers travel comfortably inside.
Pilatus chose the best materials for this cabin. Soft leathers and rare wood cabinets add a touch of luxury to this tailor-made interior.
A closed toilet is available at the front of the cabin. A mini bar also allows passengers to have a snack during the flight.
A system keeps electrical access and air conditioning on the ground when the engines are off. The cabin is also equipped with an intelligent lighting system with LED lights.
The interior of the PC-24 has been designed for quick and easy reconfigurations. A seat can be removed in just a few minutes. There is also the possibility of installing a small meeting table. The rear bulkhead is also movable to enlarge the cabin or increase the volume of the baggage compartment.
This luggage compartment at the rear of the cabin sets the PC-24 considerably apart from other medium private jets, it can load some 12 travel bags in its standard configuration.
Cockpit
The PC-24 cockpit is certified for monopilot operation. The Advanced Cockpit Environment (ACE) designed in partnership with Honeywell brings simplicity and high technology to pilots.
Four 12-inch screens display all relevant information for the flight. A synthetic vision system brings better knowledge of the environment to pilots. An autothrottle automatically controls the power of the turbojet. The PC-24 also has a latest generation collision avoidance system (TCAS II).
Pilatus has designed this cockpit to be efficient and intuitive, it reduces the workload and greatly improves flight safety.
High Versatility
The Pilatus PC-24 has an exceptional cargo door of 4 ft 1 in x 4 ft 3 in (1.25 m x 1.30 m). The advantages provided by this door are impressive.
Passengers can therefore travel with a motorcycle, bicycles or large luggage. The Pilatus PC-24 can serve as a cargo plane and carry pallets or bulk cargo.
This exceptional cargo door also makes it possible to turn the PC-24 into a medical aircraft (air ambulance). It offers the possibility to enter stretchers and medical equipment from the rear of the aircraft.
Benefits
– Able to land and take off on short unpaved runways
– Comfortable and modern cabin
– Large cargo door
– Versatility
Specification of the Pilatus PC-24 
Manufacturer

Seats

8

Lavatory

Yes

Luggage Capacity

90 cu.ft | 2,55 m³
Model

PC-24

Speed

446 kts | 825 km/h

Cabin Height

5.10 ft | 1.55 m

Hourly Rates

5200$ | 4500€ | 4000£ /H
Category

Medium Jets

Range

2000 nm | 3704 km

Cabin Width

5.70 ft | 1.70 m
Pilatus PC-24 Charter
Submit your flight request via our online quote form.
Take-off in less than 2 hours.
Purchase or Sell a Pilatus PC-24
Tell us your wish to acquire or sell.
Get support in the process.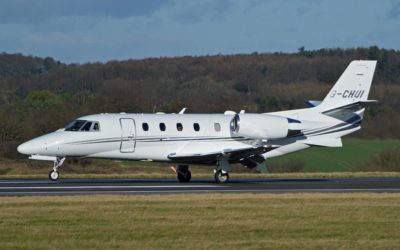 Charter a Cessna Citation XLS+ The Cessna Citation XLS+ private jet is available to charter through Menkor Aviation.Overview The Cessna Citation XLS +, or simply "plus", is the latest and most advanced model in Cessna's mid-size private jet range. This private jet...