Diamond Aircraft Launches its DA 50 RG with Retractable Gear
Diamond Aircraft has just obtained certification from the European Aviation Safety Agency (EASA) for its latest aircraft, the DA50 RG. The first deliveries are expected in early 2021.
Amazing Performance for this Light Aircraft
Unveiled in June 2019, the DA50 RG (Retractable Gear) is presented as a "game changer" by Diamond Aircraft for the general aviation and light aircraft markets.
Intended to compete with the Cirrus SR22, this single-engine aircraft is powered by a Continental CD-300 V6 engine of 300 hp (224kW). It is liquid cooled, turbocharged and controlled by two FADECs (Full Authority Digital Engine Control). Pilot workload is lightened with a single-lever throttle control that automatically adjusts propeller thrust and rpm. The tank has a capacity of 189 liters (50 USgal) of A-1 jet and the consumption is only 34.1 liters/h (9 USgal/h).
The DA 50RG has features worthy of a modern private jet. The flaps, with double slots, provides "high lift and superior slow speed behavior as well as many drag reduction features". The lightweight airframe is completely made of carbon composite.
The DA50 RG can therefore fly at 181 kts (335 km/h), climb up to 20,000 ft (6,096 meters) and has a range of 750 nm (1,389 km). Its payload is 559 kg.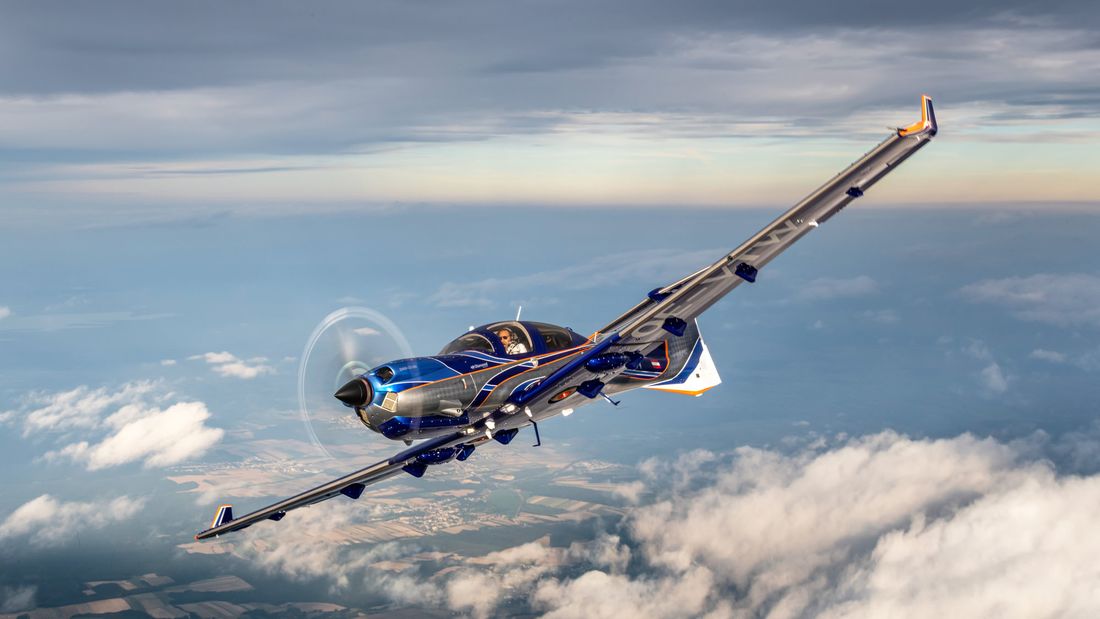 The Retractable Gear, the Major Asset of the DA50 RG
The most notable feature of this new single-engine is undoubtedly its retractable gear. It allows Diamond Aircraft to differentiate itself in today's market as very few light aircraft are equipped with it.
"You too think that flying with a retractable gear single is a touch more sophisticated? You will love the sound the landing gear makes as the wheels retract"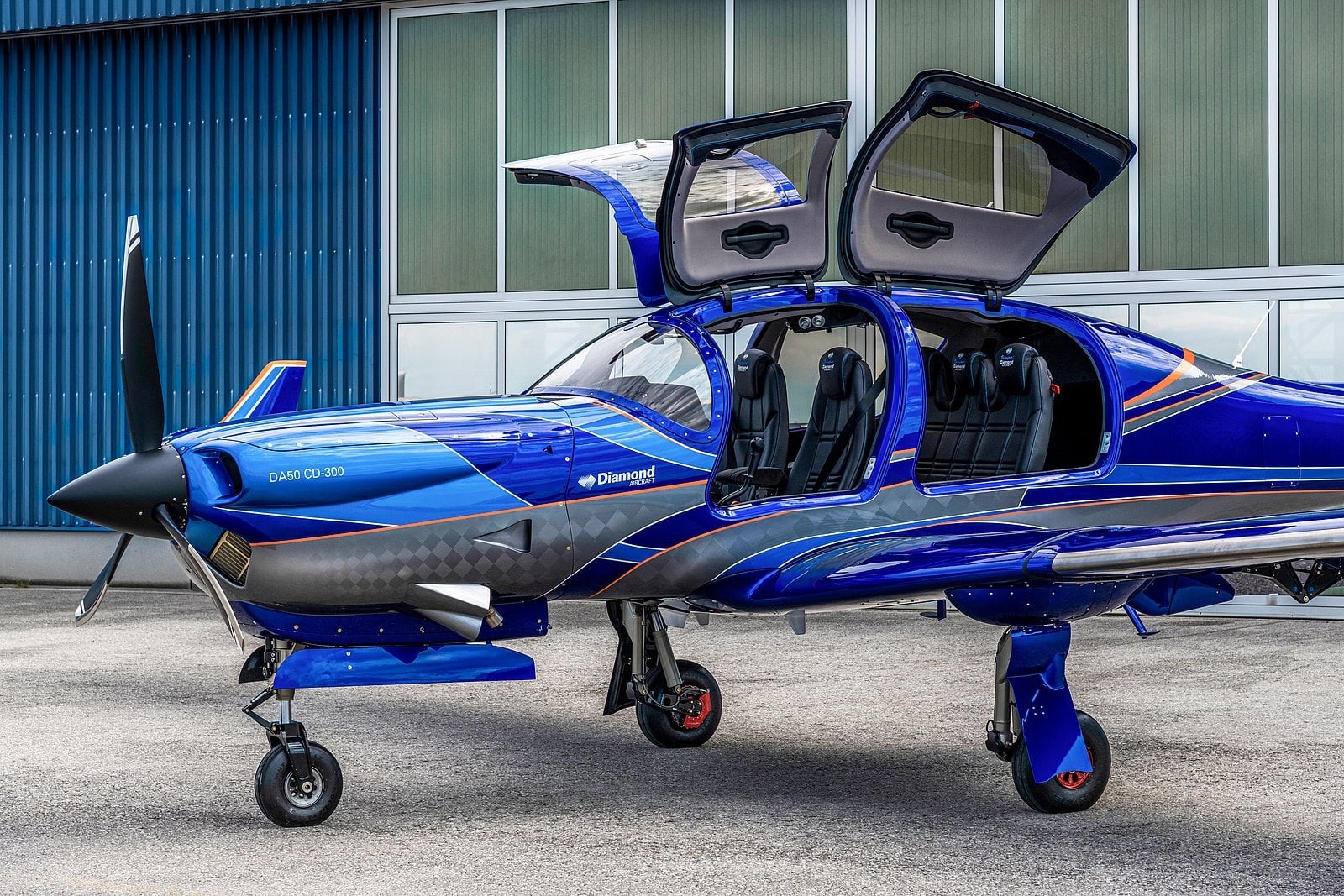 A comfortable Interior with Many Options
The cockpit is equipped with a Garmin G1000 NXi avionics suite coupled with a GFC700 three-axis autopilot. This very modern suite has wireless connectivity and allows data synchronization from a smartphone or tablet. It offers enhanced situational awareness to the pilot through layered information overlay and even visual approach functionality.
The DA50 RG boasts one of the widest cabins in its class, comparable to that of the twin-engine DA62. It can comfortably accommodate 5 passengers and offers plenty of legroom. The colors and materials are refined.
There is a a 60/40 split folding three seat second row bench. And the wide baggage compartment is located at the rear of the cabin.
Diamond Aircraft brings plenty of options to the DA 50 RG such as an oxygen system, electric air conditioning, de-icing system, built-in tablet mount and even a Garmin GCU 476 keyboard to complete the avionics suite.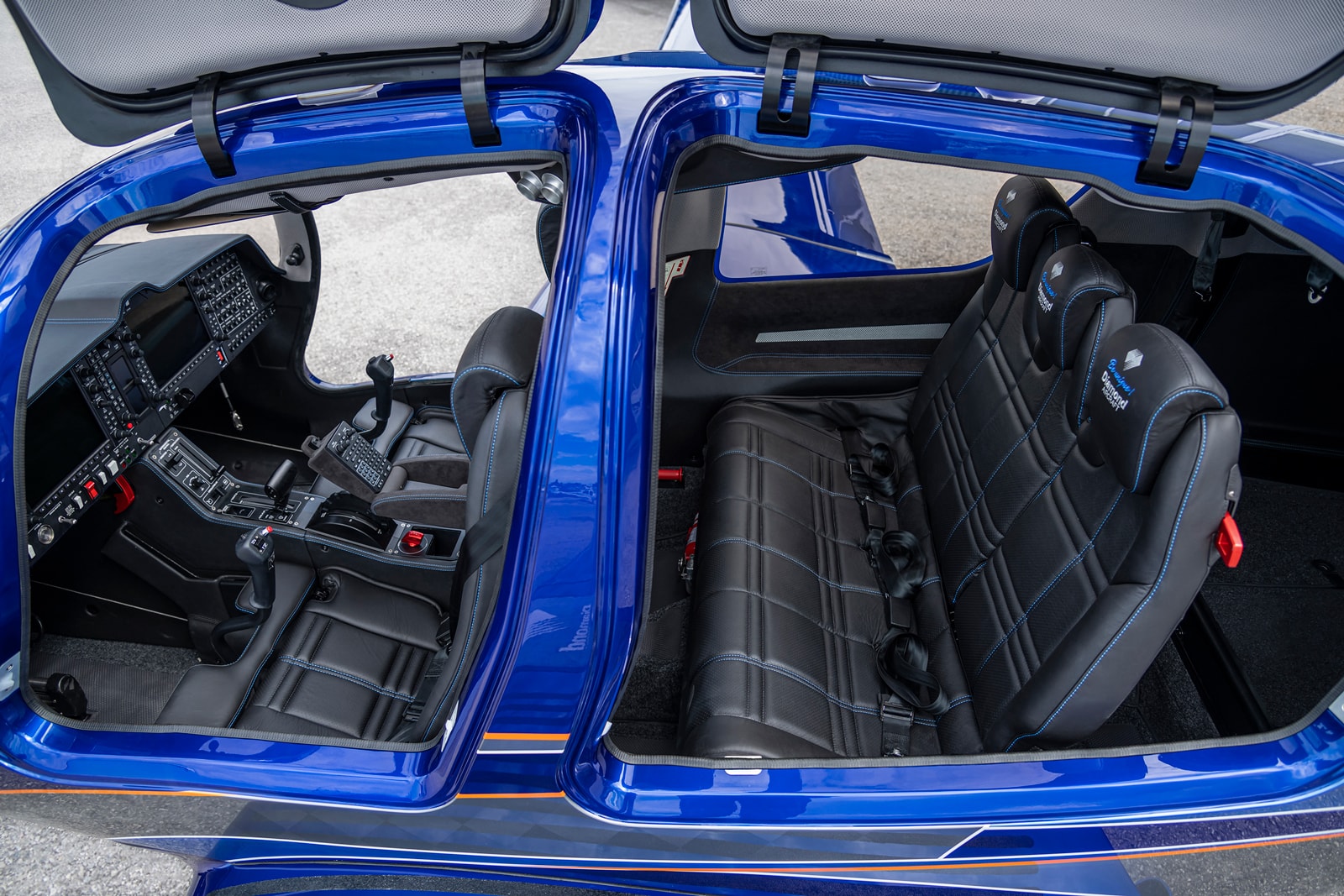 The First Deliveries for Early 2021
The Austrian aircraft manufacturer, recognized for the quality of its light aircraft, is targeting private owners, flying clubs and charter operators with its DA50 RG.
«The DA50 RG is well suited for single engine pilots looking for more seats and utility, as well as charter operators and corporate flight departments wanting to complement larger aircraft with a low-cost alternative for shorter trips. ».
The European Aviation Safety Agency (EASA) has just certified the DA50 RG. The first deliveries are expected at the beginning of 2021. As for the American market, Diamond Aircraft hopes to obtain certification from the Federal Aviation Administration (FAA) by the end of 2021.