How much Luggage can I Bring on a Private Jet ?
The private jet is the fastest and most comfortable mode of transport. When you travel by private jet, you are free to take your luggage on board or in the hold.
The amount of luggage you can take on board depends on several things such as the private jet you are flying in, the number of passengers, and the size and type of your luggage.
Menkor Aviation gives you access to an exceptional network of accredited private jets of all sizes and categories: turboprop, light private jets, mid-size private jets, long-haul private jets and VIP airliners. Each category of private jet offers different storage space for luggage. But even within the same category of private jets, the luggage capacity can vary considerably from one private jet to another.
How do I know if I can Take all of my Luggage on a Private Jet?
Private jet manufacturers made sure that every passenger could travel with their baggage. For light and intermediate jets, one seat is therefore equivalent to one luggage. However, the majority of private jet flights are not at full capacity. Passengers can load more baggage into the cabin by placing it in the free seats.
Larger jets travel longer distances and involve longer stays, they are therefore designed so that each passenger can carry more than one luggage.
Each baggage is considered to weigh 23 kg (50 pounds) and the luggage capacity of a private jet is calculated in volume (m3). Generally, 1m3 represents a suitcase and a hand luggage.
Menkor Aviation's team of advisers are available at all times to give you recommendations on the baggage capacity of private jets. This article will give you some general information on the different categories of private jets.
Turboprop aircraft are small propeller planes that are very economical for travel. They can land on small and unpaved runways, especially grass. They can land to the closest airport to your destination. 
Turboprop aircraft offer cabin and baggage compartments that are often more spacious than light private jets of equivalent size. Although they are slower than jets, they allow for more luggage.
The Diamond DA 62 is an example of a piston aircraft that offers a large baggage capacity. This small aircraft is ideal for regional trips. A generous space is dedicated to luggage at the rear of the cabin, it can store suitcases and bags. The second row bench can be folded down, providing exceptional space for carrying oversized luggage. There is also a luggage compartment in the nose of the plane which can accommodate a golf bag or even skis.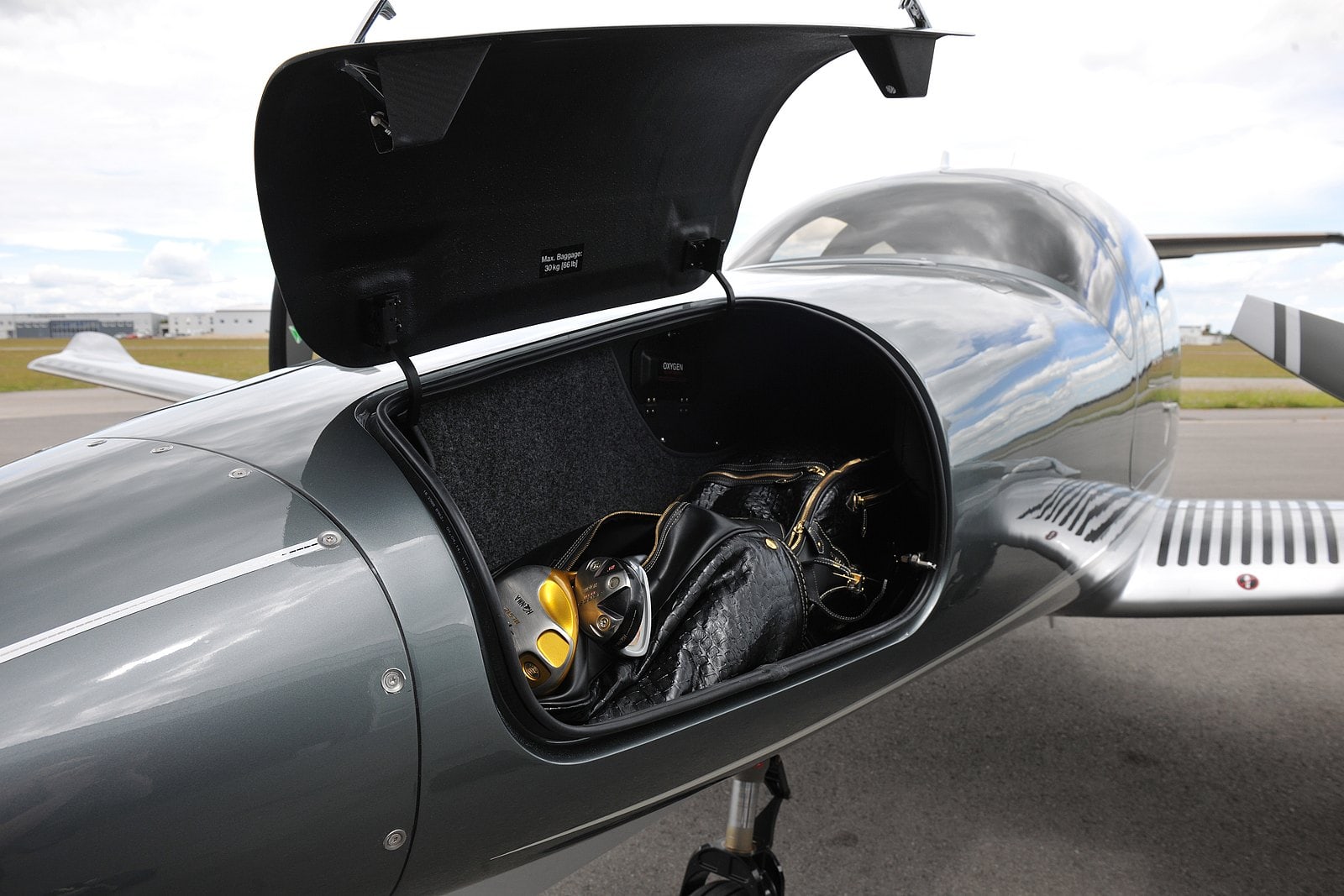 Nose compartment of the DA-62
Luggage Capacity of Very Light Jets
Very light private jets are private jets with a maximum of 4 seats. A very light private jet is an economical and fast solution for short or medium distance trips.
The most popular are the Cessna Citation Mustang, the Embraer Phenom 100 or the Honda HA-420 HondaJet. The cabin of a very light private jet is always optimized, every inch counts.
The very light jets all have storage space for carrying luggage inside the cabin. Some also have compartments on the outside but these are not pressurized, so it is better to place luggage that can be damaged by cold air or pressure changes in the cabin.
The cabins of very light jets are often different in shape from that of airliners. They follow the cramped shape of the fuselage. Soft luggage is often easier to get on board than hard suitcases in these private jets.
The HA-420 HondaJet has an exceptional luggage compartment of 1.85 m3. For comparison, that of the Citation Mustang is 1m3 and that of the Phenom 100 is 1.5 m3. This hold allows you to take many suitcases, pairs of skis or even golf accessories.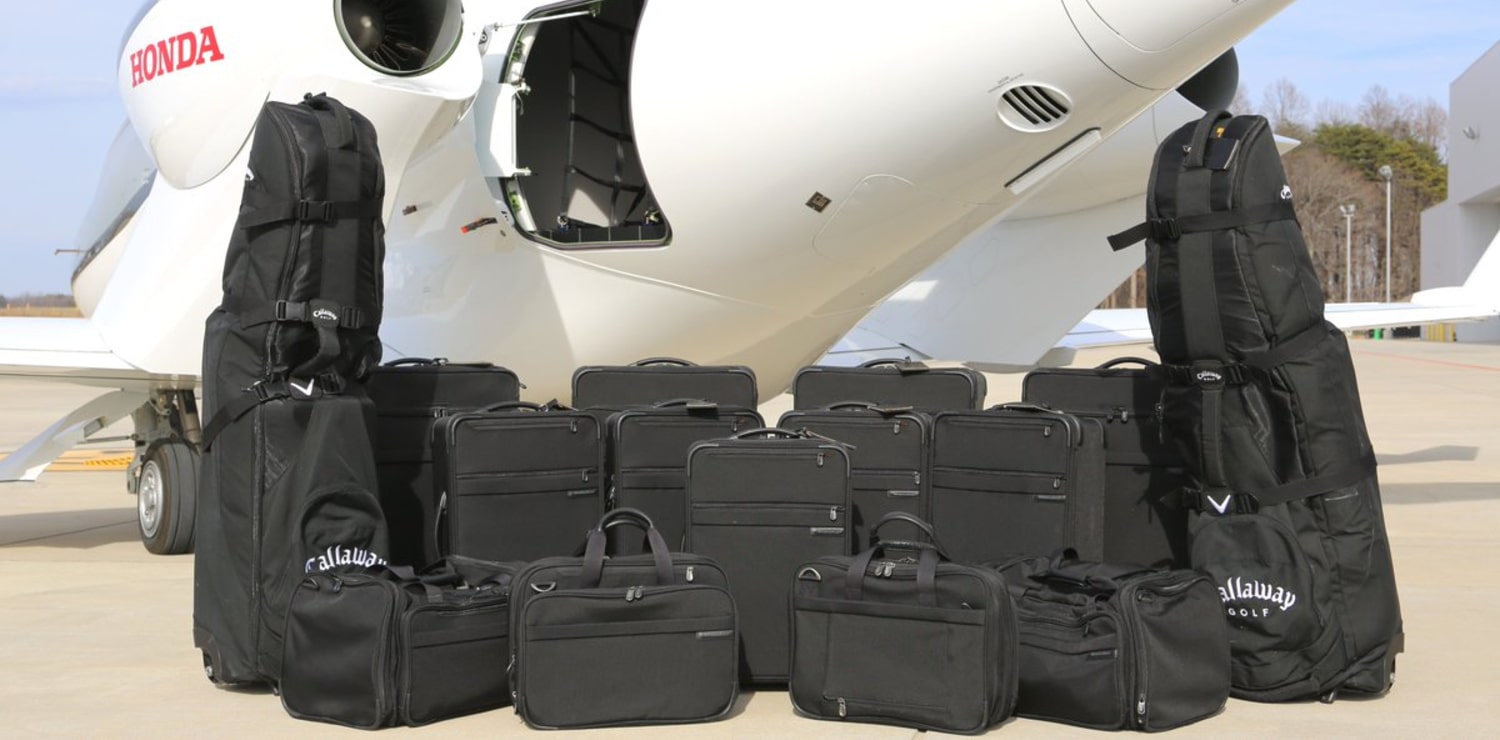 Luggage capacity of the HondaJet HA-420
Light private jets are business jets with 4 to 7 seats. They are perfect for traveling economically in small groups over short to medium distances.
All light private jets have dedicated luggage storage space. Their capacity is often equal to or somewhat greater than that of very light jets. A seat allows the carriage of one piece of luggage.
The Embraer Phenom 300 is a modern small private jet that can accommodate up to 7 passengers. It is distinguished by a baggage compartment of 2.23 m3. An ideal volume for businessmen or a family who travel with their own suitcase each and hand luggage.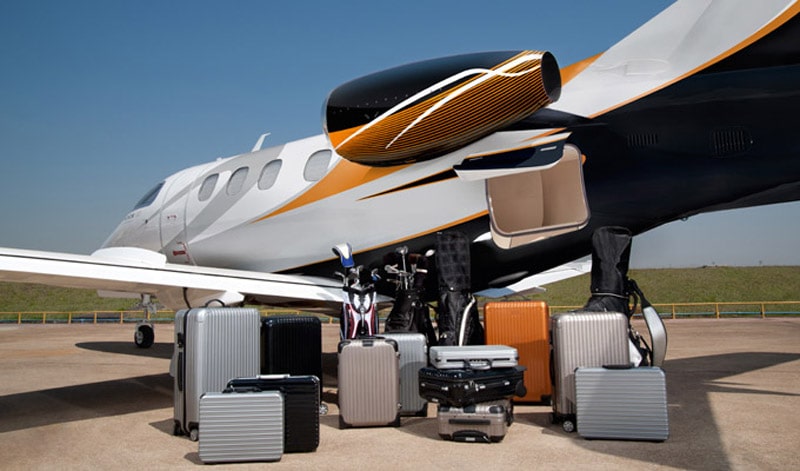 Luggage capacity of the Phenom 300
Medium-sized private jets can carry between 6 and 12 passengers. With a longer range and larger luggage capacity than the light private jets, medium private jets offers more comfort to passengers.
Medium private jets have baggage compartments suitable for groups of passengers. This is a good choice if you are traveling with a lot of luggage or if you are traveling in a group of less than 10 people.
The Cessna Citation XLS + is a mid-size private jet that can accommodate up to 12 passengers. The luggage compartment provides a generous space of 2.54 m3, it allows each passenger to travel with his own suitcase and hand luggage.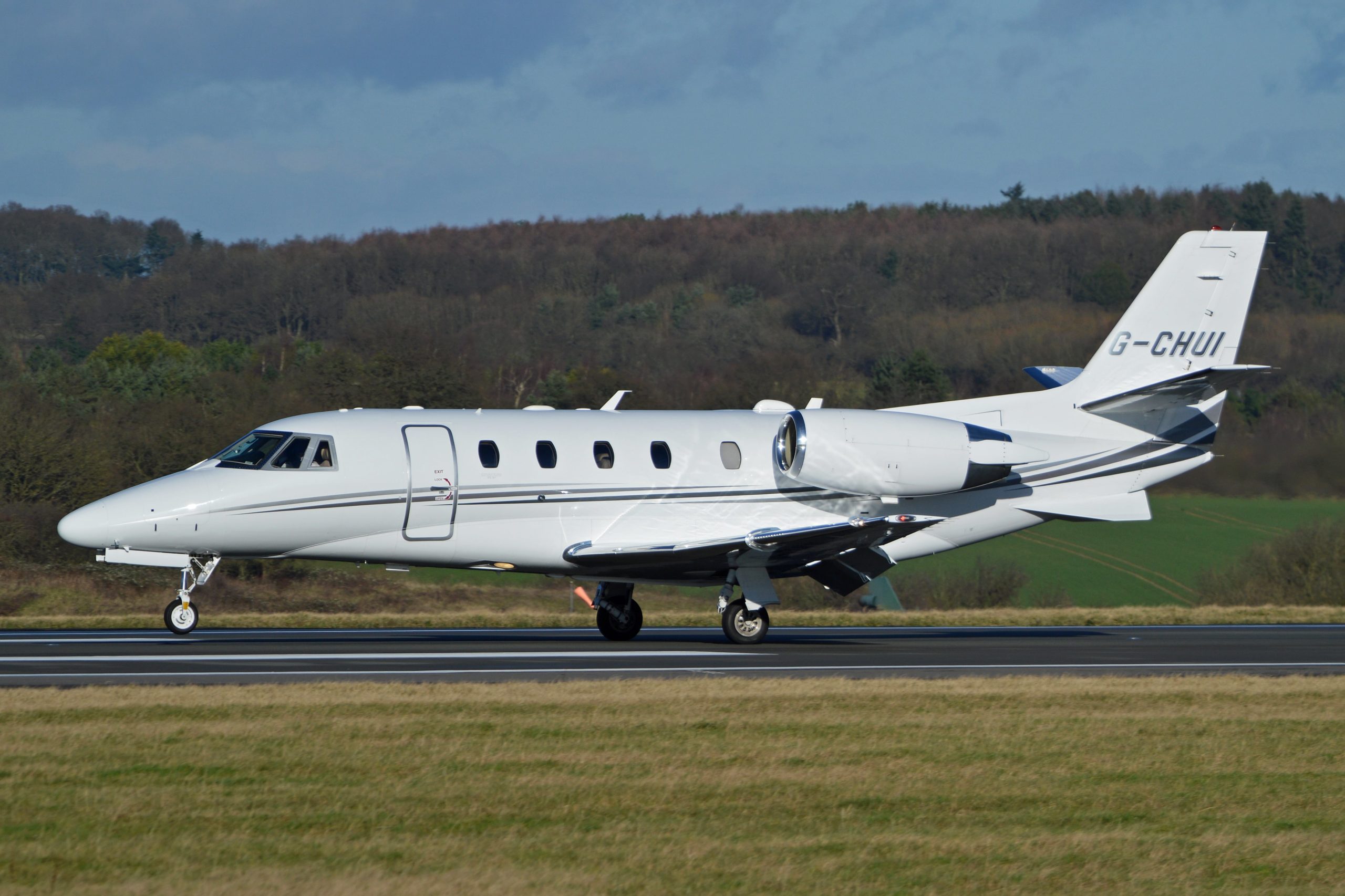 Long range private jets are business jets of 10 to 19 passengers that offer very long range and exceptionally spacious cabins.
They don't have a larger baggage compartment than mid-size private jets. However, they have many additional storage spaces within the cabin. Passengers can place their luggage in different compartment. It is often possible to take up to 20 suitcases in a long-haul private jet. 
Moreover, it is often possible to access the luggage hold from the cabin during the flight. An obvious advantage for flights that can sometimes last more than 10 hours.
Dassault's Falcon 7X is a very long long private jet with 13 seats. This business jet has a spectacular range of 11,000 km. It can link most of the world's major capitals together non-stop. The Falcon 7X offers 5.55m3 of baggage hold and plenty of storage space in the cabin. Passengers can take between 20 and 25 pieces of luggage.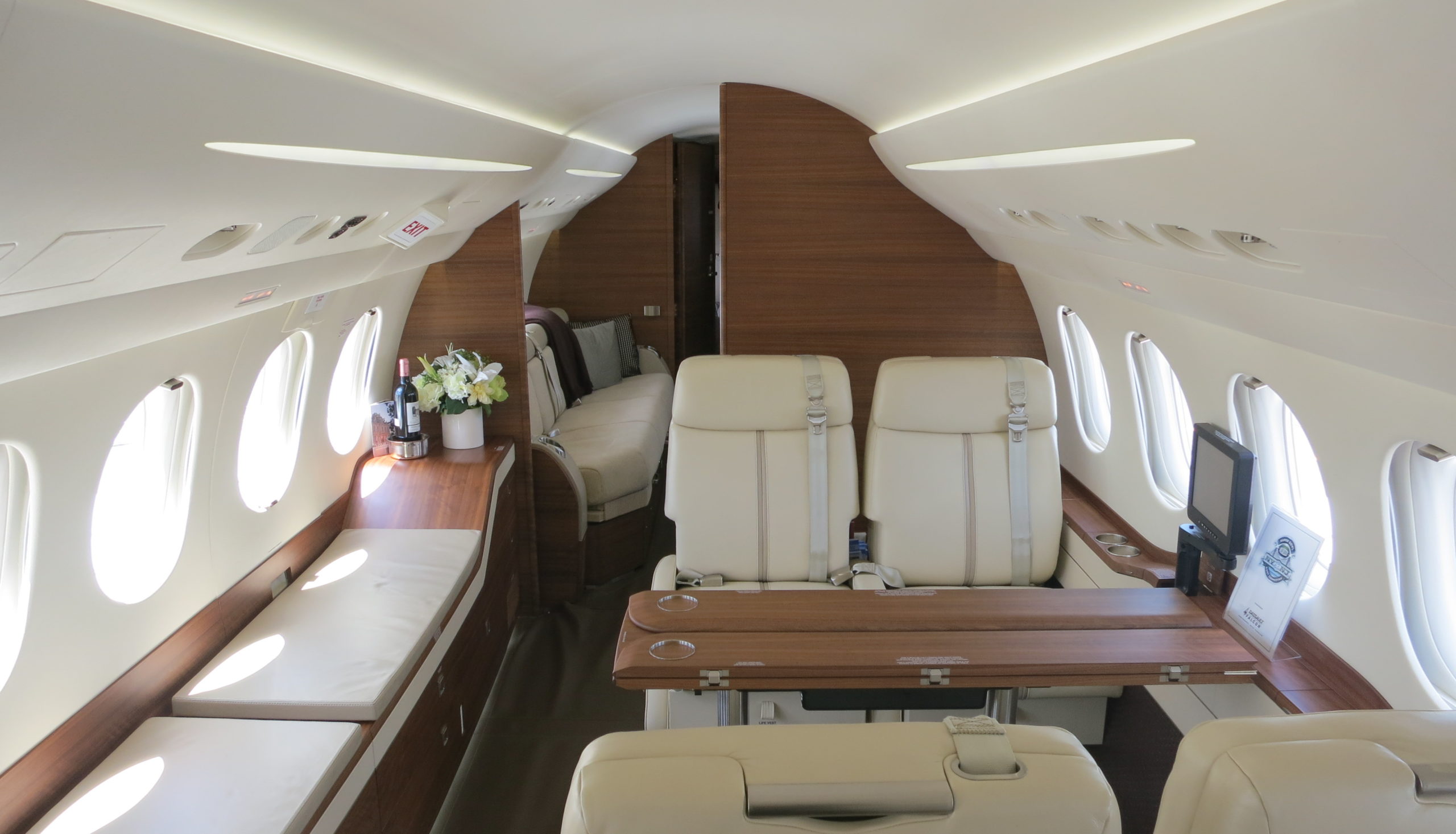 The cabin of the Falcon 7X
The planes with the greatest luggage capacity are the VIP airliners. The best known are the ACJ (Airbus Corporate Jet) and the BBJ (Boeing Business Jet). They offer large multi-zone cabins similar to true five-star hotel suites.
VIP airliners have large luggage hold that can accommodate a lot of baggage. Numerous storage spaces are also present in the cabin. Typically, a VIP airliner can carry between 60 and 90 pieces of luggage. VIP airliners are favored by heads of state, royal families but also music groups during their tour.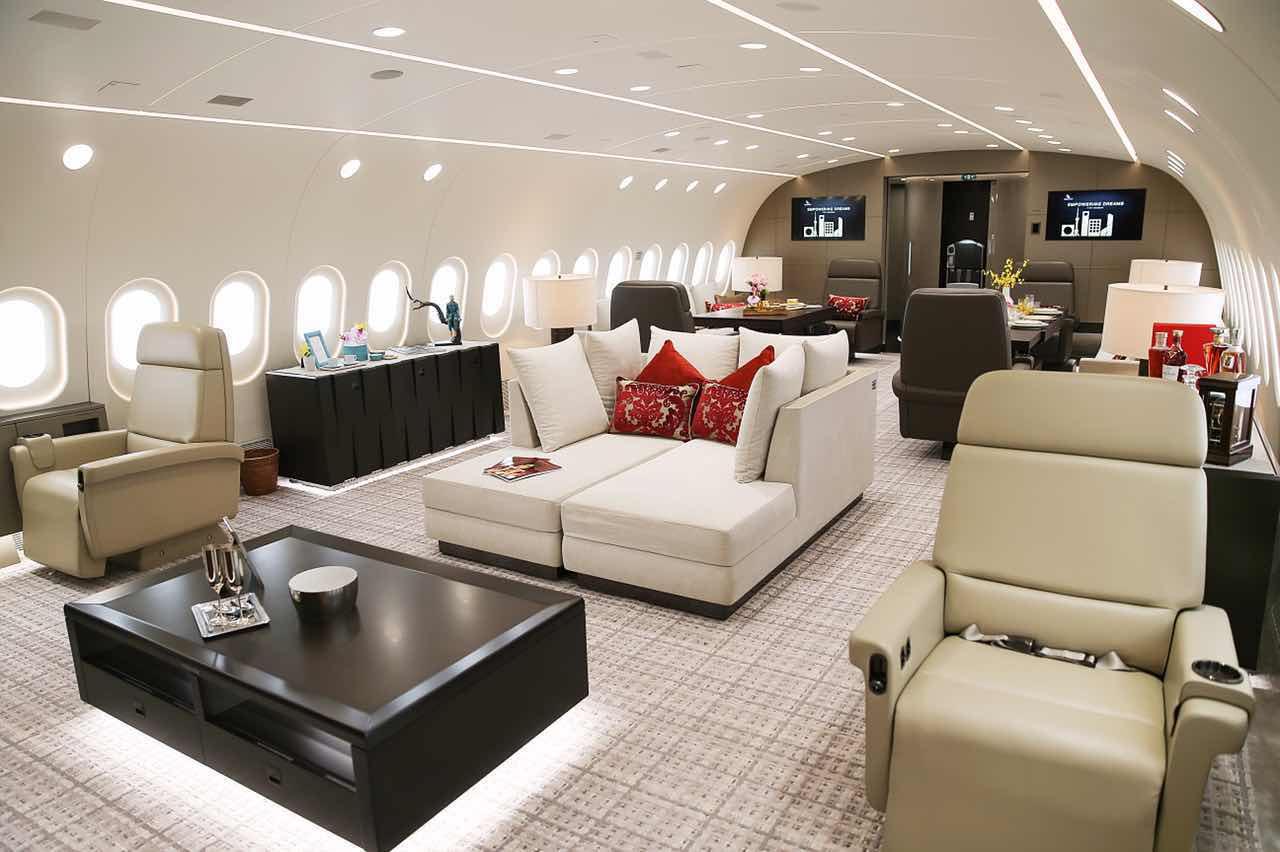 The cabin of a VIP 787-800 Dreamliner