The World's Leading Private Jets Manufacturers
Business aviation originated in the 1930s with the beginning of the use of light passenger planes for the transport of businessmen and politicians. But it was in the 1970s that it really took off when ingenious companies decided to develop jets specifically dedicated to business travel. This is how appeared the first private jets: the Lockheed JetStar, the North American Sabreliner, the Dassault Mystère 20, the Learjet 23 and then the Gulfstream II.
Over the years, many private jets manufacturers have come to compete in this market with ever faster, more comfortable and luxurious planes. Discover with Menkor Aviation who are now the main manufacturers of private jets in the world.
Bombardier Aviation is a Canadian aircraft manufacturer based in Doval, Quebac, and a subsidiary of the Bombardier Inc group. Founded in 1937 by Joseph-Armand Bombardier, the group entered the aerospace industry in the 1990s with the purchase of Canadair, Learjet and De Havilland Aircraft.
The company is developing particularly in the business aviation segment with 3 families of private jets: Learjet (short haul), Challenger (medium haul) and Global (long and very long haul).
Bombardier is the first private jet manufacturer to have developed a very long-haul private jet. The Global Express range makes it possible to connect non-stop very distant destinations such as Paris and Los Angeles or New York and Dubai. The latest Global 7500 and 8000 models have a range of 14,600 km and provide exceptional passenger comfort.
In 2019, after major restructuring, the group decided to abandon its production of airliners and regional planes to focus solely on its brands of private jets.
The manufacturer of private jets Bombardier is recognized today for the quality of its aircraft and the level of detail it brings to the comfort of its passengers. More than 4,700 Bombardier private jets are in service around the world in more than 115 countries.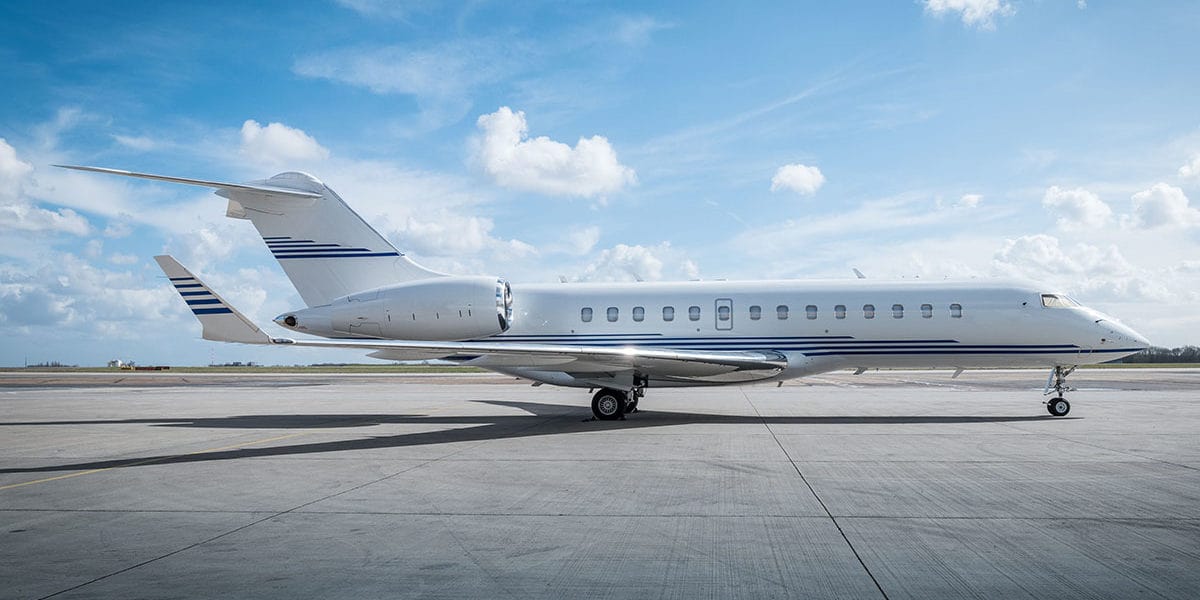 Beechcraft was born in 1932 in Whichita, Kansas under the name of Beech Aircraft Corporation. Founded by Walter Beech and his wife Olive Ann Beech, the company specializes in the manufacture of piston airplanes and light turboprop aircraft.
Beechcraft shines with popular planes like the Bonanza, a 6-seater single-engine aircraft. In continuous production since 1947, this aircraft has been produced in more than 17,000 copies.
The Baron 95-C55 is also a flagship aircraft of the American manufacturer. This light twin-engine aircraft has been dedicated to large tourism and regional business aviation since 1960.
Beechcraft's King Air range has been a family of twin-turboprop planes popular for business flights and freight transport since 1964. The King Air 350 is arguably the flagship of this range. Introduced in 2009, it can carry 9 passengers over 2.778 km. Its ability to land and take off on short, unpaved runways allows businessmans to go to destinations not served by commercial aviation.
In 1980, Beech Aircraft was acquired by the Raytheon Company and merged with the Hawker jet brand to form Raytheon Aircraft. After having marketed the two ranges under the same name for several years, the group announced in 2002 the re-establishment of both Beechcraft and Hawker.
In 2013, Textron Aviation, also owner of Cessna, bought Hawker Beechcraft and renamed it Beechcraft. Since then, Beechcraft has remained present in the piston aircraft market with its Baron and Bonanza and in the turboprop market with its King Air and Beechliner.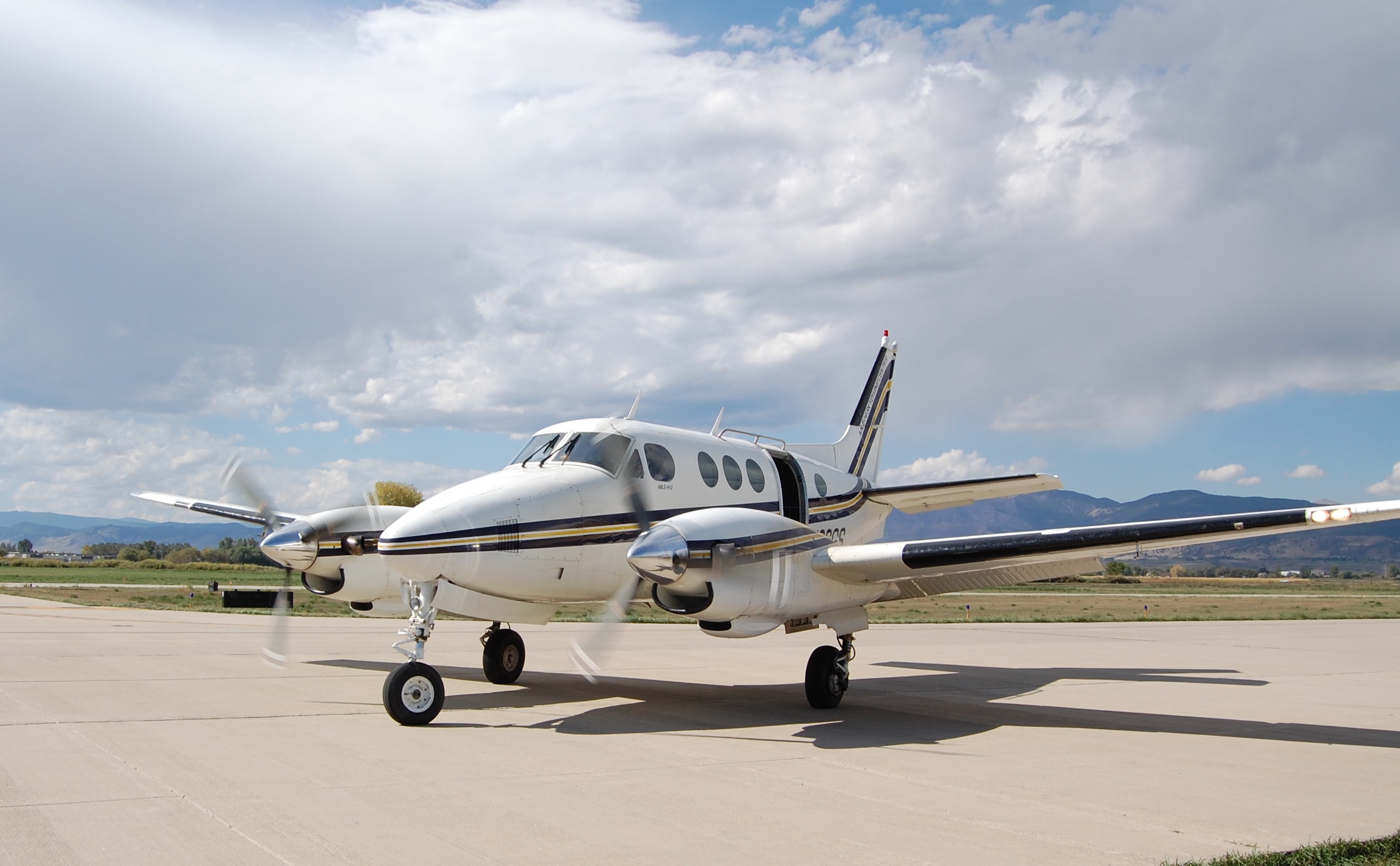 Cessna appeared in 1927 when Clyde Cessna and Victor Ross became partners to found the Cessna-Roos Aircraft Company. Bought by the Textron Group in 2014, Cessna is today a brand whose aircraft are produced in Whichita, Kansas, the aviation capital of the United States.
The private jets manufacturer has made a name for itself with light passenger planes. The Cessna 172 Skyhawk is arguably Cessna's most popular aircraft. This single-engine, 4-seater passenger plane, introduced in 1955, is the world's best-selling aircraft with more than 44,000 models. Still in production, the C172 stands out for its reliability and low operating costs.
Cessna introduced the 208 Caravan in 1982. This 9-passenger utility plane was another big hit for the brand. It can land and take off on very small unpaved runways and particularly stands out in hazardous environments. This aircraft is mainly used for air freight, humanitarian missions, or the transport of passengers to isolated areas. Its successor, the Cessna 408 SkyCourier, is in the testing phase and the first deliveries are scheduled for 2021.
It was in 1972 that Cessna entered private jets market with its Citation family. This famous family is the largest fleet of private jets, bringing together many jets from 8 to 15 passengers. The Citation II, III and V were very popular private jets with passengers.
Another light private jet known is the Citation Mustang. This 4-seater aircraft with a radius of 2.235 km was put into service in 2006. With more than 479 units produced, it is very popular with businessmen.
The Citation XL, XLS and XLS+, three versions of the same 8-seater private jet with a range of 3,900 km, is also highly coveted by business travelers and tourists. The latest Citation XLS + is a very comfortable 12-passenger medium-haul private jet with a range of 3,889 km.
The latest private jets in the Citation family are the Citation Latitude and Longitude. These very modern, efficient and comfortable jets have everything they need to satisfy passengers. The Cessna Latitude, introduced in 2015, can carry 9 passengers over nearly 5,000 km. As for the Longitude, it was put into service in 2016 and can carry 12 passengers over 6.482 km. These exceptional performance demonstrates the quality of the private jets manufacturer Cessna.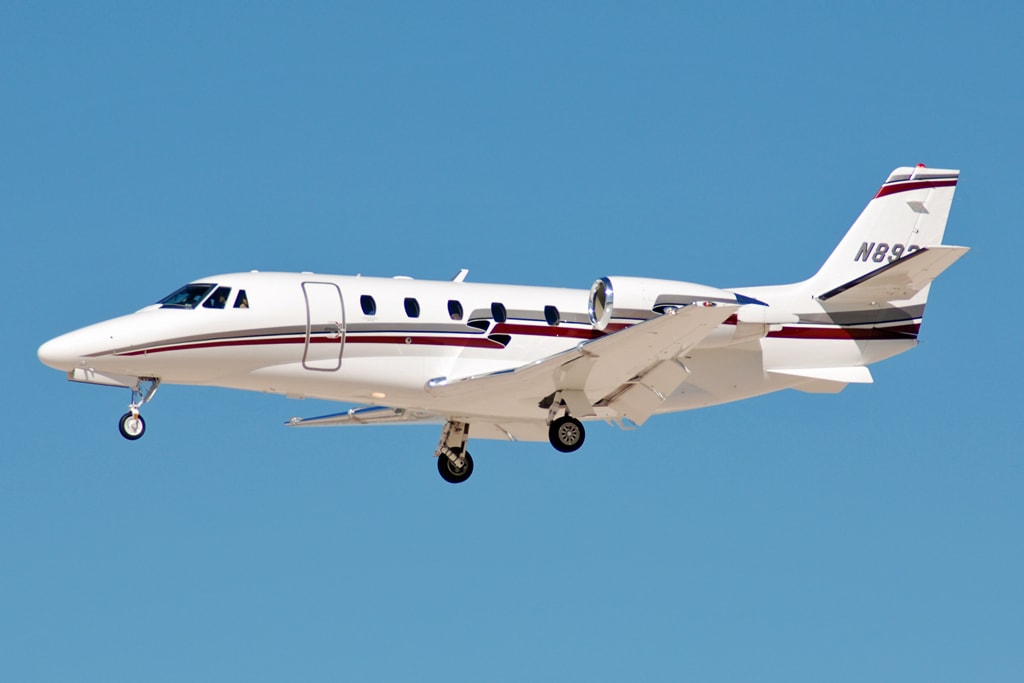 Dassault Aviation was born in 1918 by the wish of François Marcel Dassault to build two-seater fighter planes for the French army. The company has distinguished itself since the origins of aviation by designing, building and producing a large number of high-end aircraft of all types. It has become a major player in high technology aeronautics.
Dassault Aviation has made a name for itself in fighter aviation with the Dassault Mystère, the Mirage and the Rafale. But it was in 1963 that the company entered business aviation with the Falcon range.
The first Falcon 20, with 8 to 10 passengers, was a great success. In 1976, Dassault launched the Falcon 50, a trijet that became the first business jet capable of crossing the Atlantic. Then the Falcon 2000, unveiled in 1989 at the Paris Air Show, is one of Dassault's biggest successes. It can carry 8 to 10 passengers on in a then precursor luxury. It is one of the most popular aircraft for passengers in the private jet charter market.
The last two flagships of Dassault are the Falcon 7X and 8X. These two three-jet private jets are technology concentrates. They offer incomparable comfort to their passengers. The Falcon 7X, which entered service in 2015, can carry up to 16 people and has a range of 11,000 km. The Falcon 8X is a stretched version of the 7X that can accommodate up to 19 passengers.
Dassault Aviation is developing the Falcon 6X, the first flight is expected in 2021.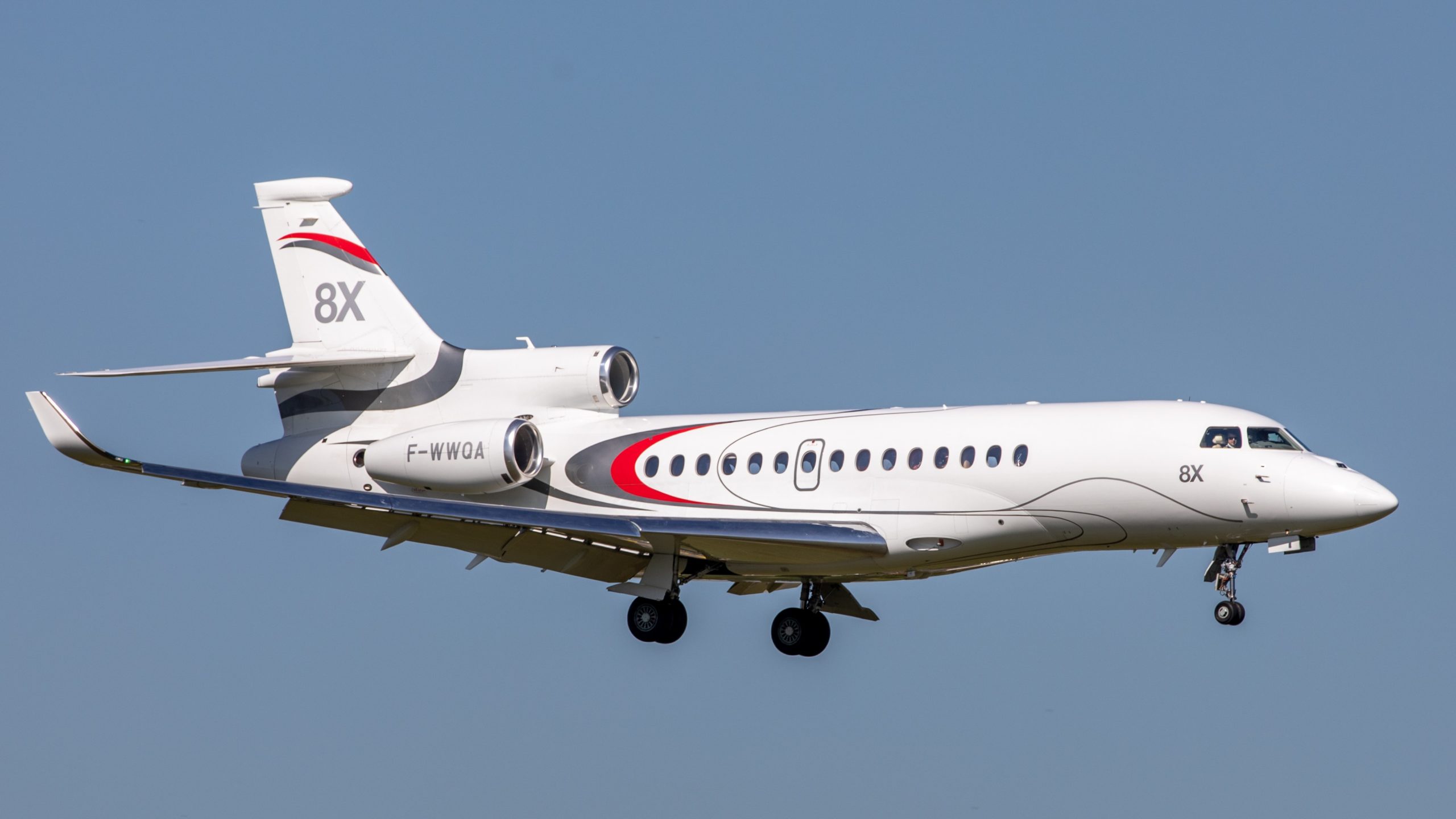 The Embraer aircraft manufacturer was created in 1969 at the instigation of the Brazilian government. The company designs military planes such as the C-390 Millennium or even airliners such as the E-170 and E-190. In 2002, Embraer turned to business aviation, making him one of the youngest private jet manufacturers in the industry.
The Legacy 600 is the first private jet introduced by Embraer in 2002. This mid-size business jet seats 13 passengers and has a range of 6,300 km. The Legacy 450 and 600, derivatives of the 500, will follow in the 2010s.
The Praetor range succeeds the Legacy. The Praetor 500 and 600 are modernized and more comfortable versions.
The Phenom 100 and 300 light private jets are also flagship aircraft of Embraer. These modern and comfortable business jets can accommodate up to 6 passengers with lavatories. They have the ability to land on short runways, such as London City Airport or Telluride Airport, and are known for their versatility. The private jets manufacturer Embraer unveiled a version of the Phenom 300 dedicated to medical evacuations in 2020.
Finally, the Embraer Lineage 1000 is an ultra-large private jet that can accommodate up to 19 passengers. As a true VIP airliner, the Lineage 1000 has a range of 8,500 km.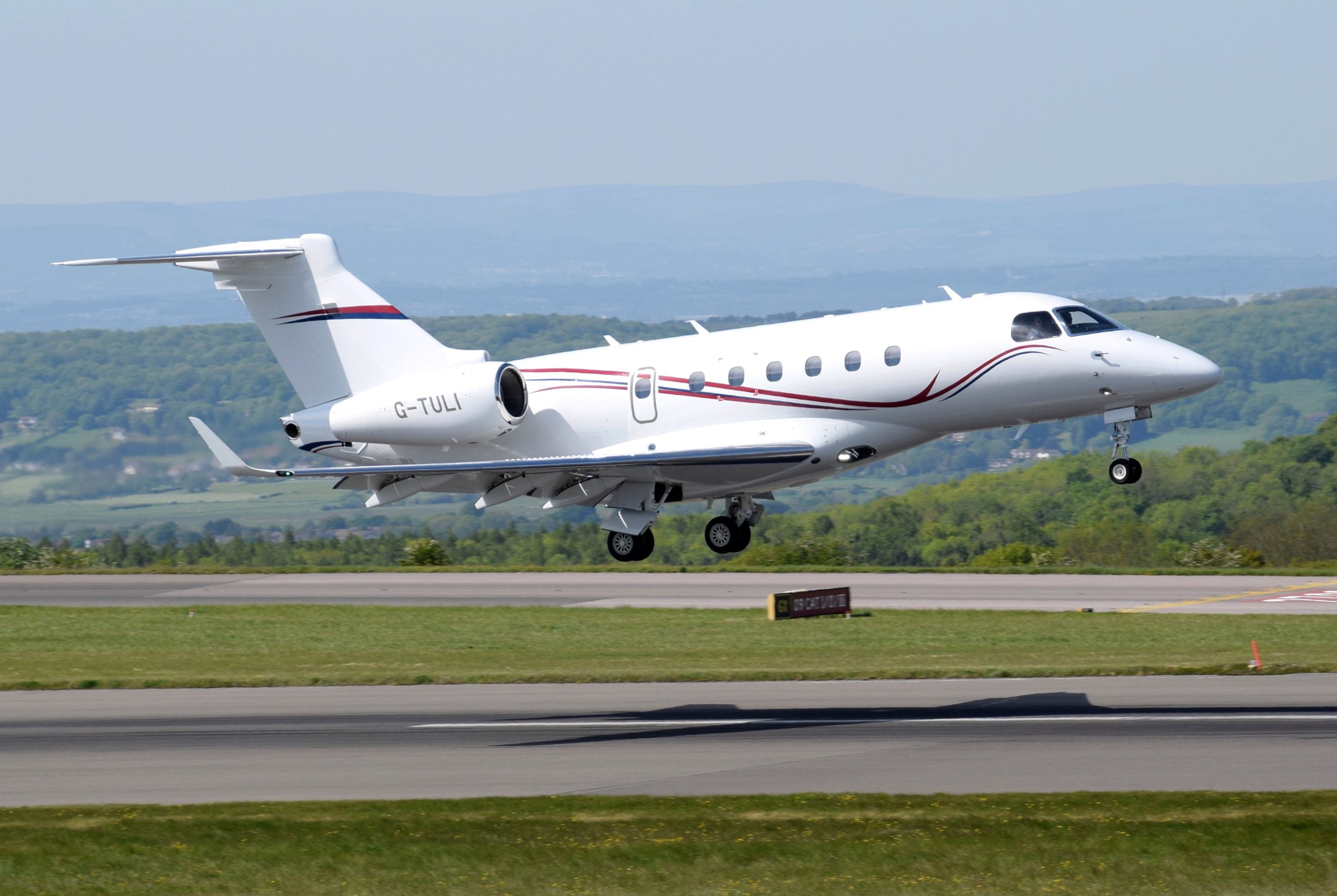 Gulfstream Aerospace Corporation is a private jet manufacturer that emerged when Grumman, an American military aircraft manufacturer, conceptualized his very first civilian aircraft, the Gulfstream I turboprop. It was such a success that the Gulfstream II, a turbojet version, was developed very quickly.
Gulfstream passed through the hands of American Jet Industries, Chrysler and then General Dynamics of which it has been a subsidiary since 1999. It is now based in Savannah, Georgia, United States.
Gulfstream produced many private jets but the aircraft manufacturer stood out in 1995 with the very first very long-haul private jet, the Gulfstream (GV). This jet has a range of 11,000 km and can carry up to 16 people.
Very popular models followed like the G550 or the G650. Gulfstream jets are highly luxurious and bring a unique level of comfort to passengers. They are particularly recognizable by the elongated oval shape of their windows.
Gulfstream has been developing the G700 since 2019, this latest model has a range of 13.290 km and can accommodate up to 19 passengers. This exceptional jet has the most spacious cabin in the industry and concentrates innovative technologies such as lighting that reduces the unpleasant effects of jet lag.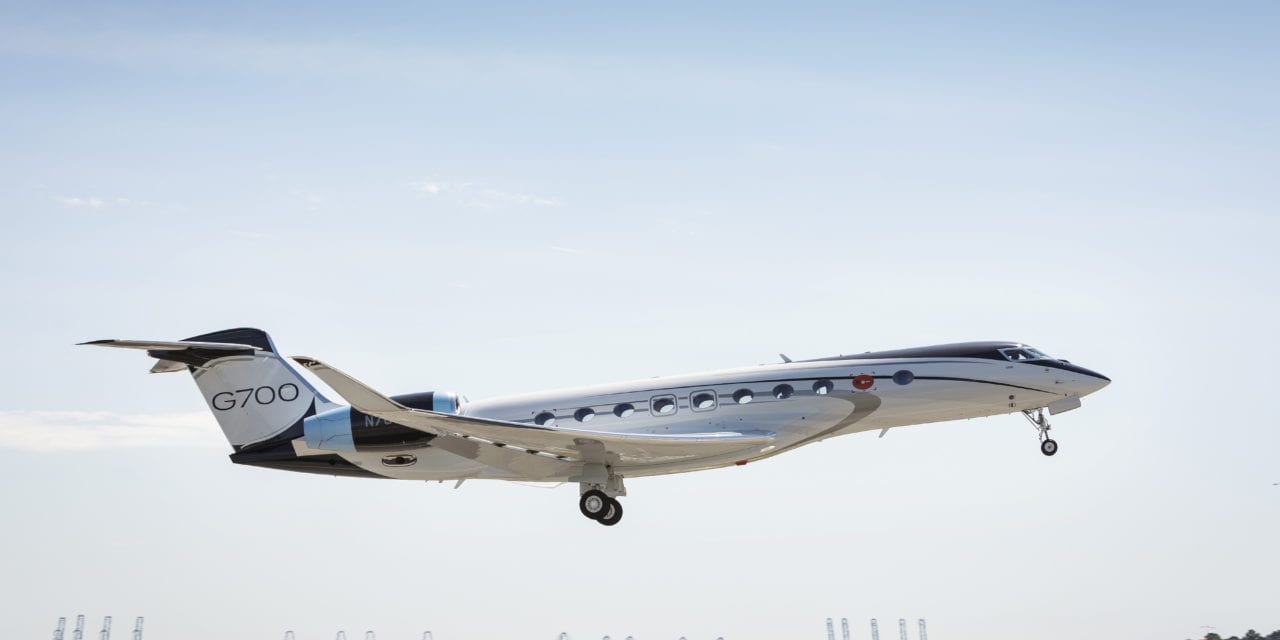 Honda Aircraft Company is a manufacturer of private jets based in Greenboro, North Carolina. As a subsidiary of the Japanese Honda Motor Group, the company is responsible for the design and production of the HondaJet family.
The HA-420 HondaJet is Honda's first private jet. It is an 8-seat twin-engine light business aircraft. This jet introduced some innovations to business aviation, including engine mounts above the wings. Delivered to customers as early as 2015, more than 150 HA-420s have been sold as of March 2020.
In order to modernize this private jet, an APMG (Advanced Performance Modification group) upgrade allows to obtain 100 to 120 nm more range and an upgrade of the avionics.
The HondaJet Elite was revealed in May 2018. This modernized version of the HA-420 offers increased performance, including a range of 2,661 km, an improved cabin and an updated cockpit.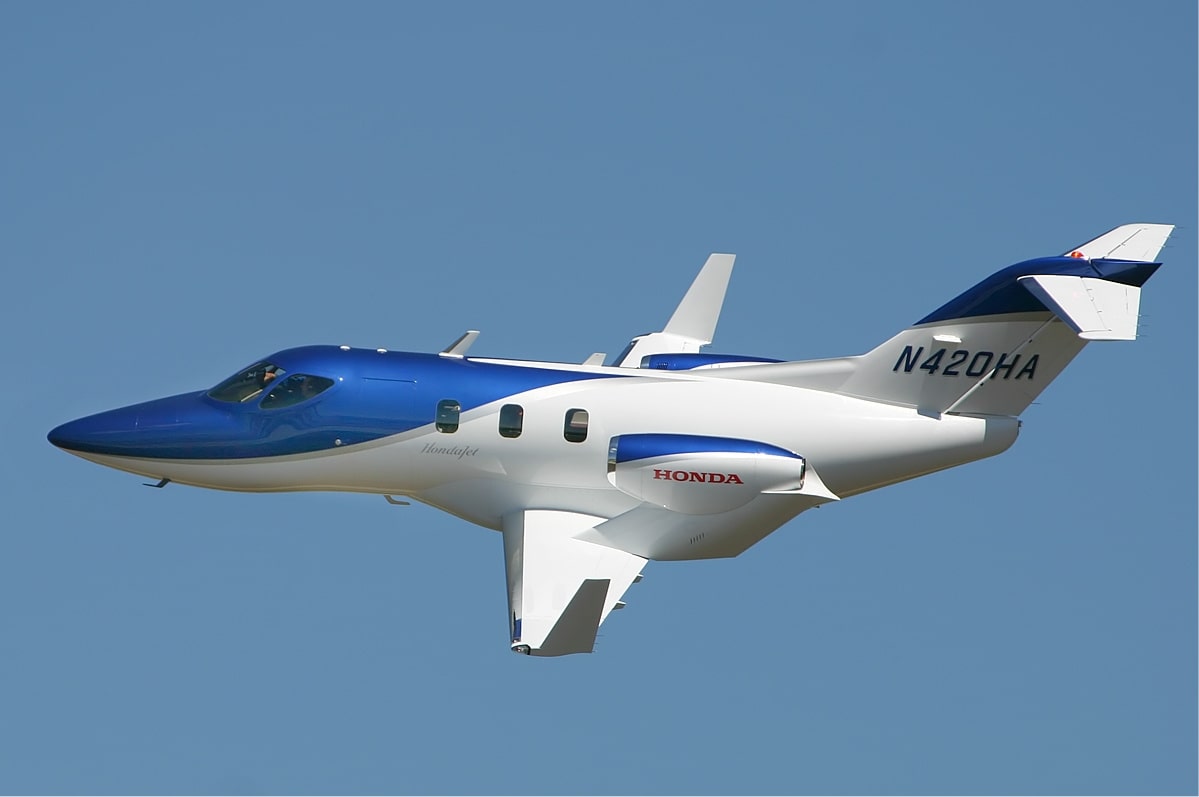 Nextant Aerospace is a company based in Cleveland, Ohio, United States. Founded in 2007, it is the first company to introduce the concept of aircraft remanufacturing to the business jet market.
Nextant has made a name for itself by taking existing aircraft and completely modernizing them. This includes replacing the engines, adding new equipment, installing new avionics and redesigning the interior. The aircraft becomes over 80% brand new with a cheaper purchase price.
The best-known model is the Nextant 400XTi, an older Hawker Beechcraft 400 rebuilt with an integrated avionics suite from Rockwell Collins and FJ44-3AP engines from Williams. Introduced in October 2011 with a range of 3,717 km with 4 passengers, the Nextant 400XTi improves range by 50% and reduces operating costs by 29%.
More recently, Nextant unveiled the Nextant 604XT in 2017, a refurbished version of the Bombardier Challenger 604. Nextant brought an improved Rockwell Collins ProLine Fusion avionics suite, a redesigned cabin and aerodynamic improvements. This private jet has an increased range of 4,500 nm (8,334 km).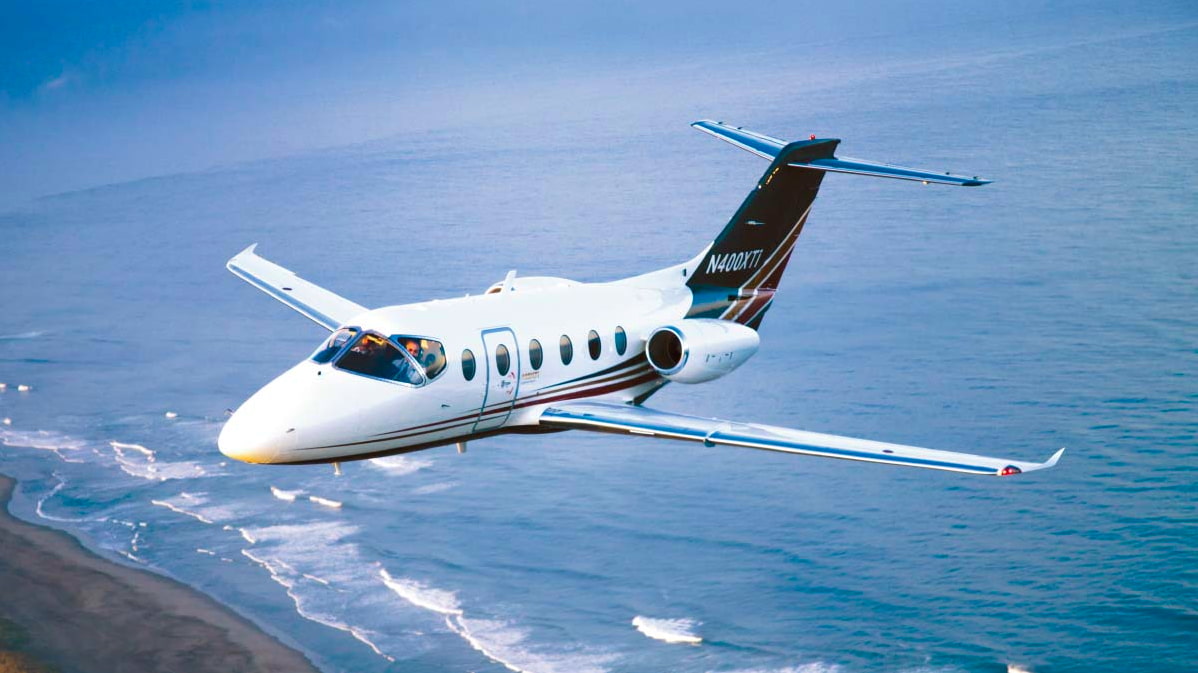 Piaggio Aerospace was founded in 1915 by Rinado Piaggio. It is the only aircraft manufacturer that alone manufactures both its aircraft, their structural components and their engines. The company is notably a supplier of mechanical parts for Pratt & Whitney engines.
Piaggio is known for producing the iconic Vespa scooters in the 1950s. Today the two companies are separate, Piaggio & C. Spa is in charge of scooters and Piaggio Aerospace is dedicated to airplanes.
The P180 is Piaggio's only business aircraft. This 6-passenger turboprop was introduced in 2000, it has a range of 2,795 km. Its very particular teardrop-shaped fuselage is very recognizable.
An evolution of the P180, the Avanti EVO, was introduced in 2015. With a cruising speed of 745 km/h (402 kts), it is the fastest business turboprop ever.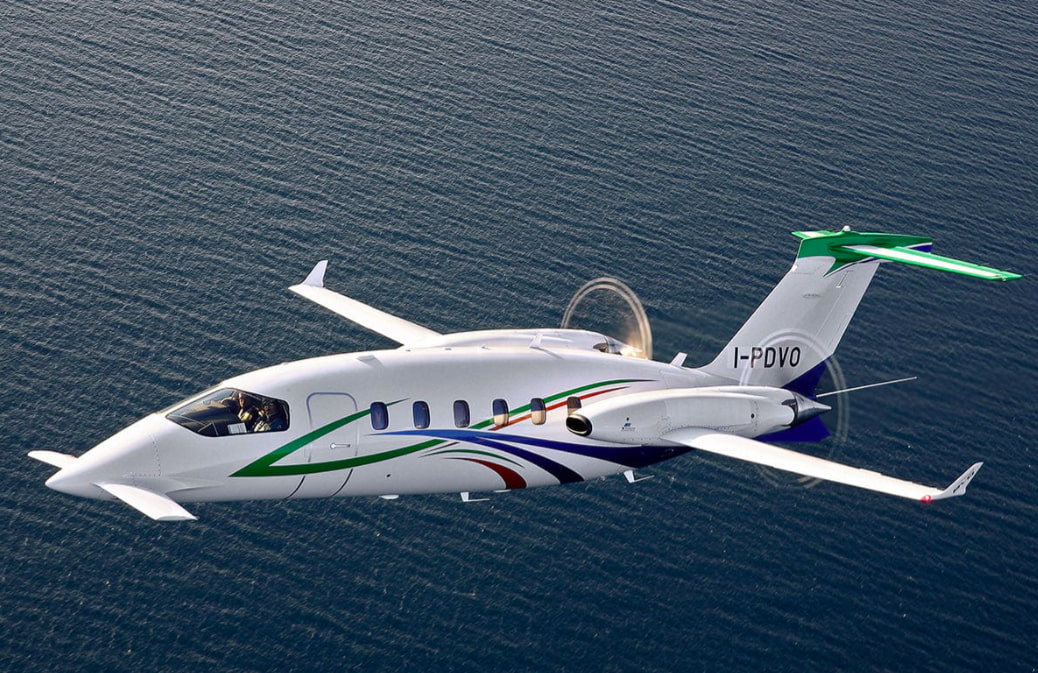 Pilatus is a Swiss aircraft manufacturer based in Stans, in the canton of Nidwalden. Founded in 1939, the company has grown to become the world leader in single-engine turboprop aircraft. But it is also recognized for the military training aircraft it produces, such as the PC-9 and PC-21.
The PC-12 is Pilatus' best known model. This turboprop can carry 8 passengers and travel 2,500 km. Versatile, economical and reliable, it is a very popular aircraft with business people. It can land on very small unpaved runways and has great versatility. It is used as much for transporting passengers as it is for transporting cargo and medical evacuations. Pilatus unveiled an improved version in December 2019, the PC-12 NGX.
Pilatus revolutionized the market in 2017 with the PC-24, a 11-passenger private jet that can land on unpaved runways. In addition to being used for passenger transport, this jet excels in transporting cargo, performing medical evacuations and military operations thanks to a large cargo door, hence its name of Super Versatile Jet.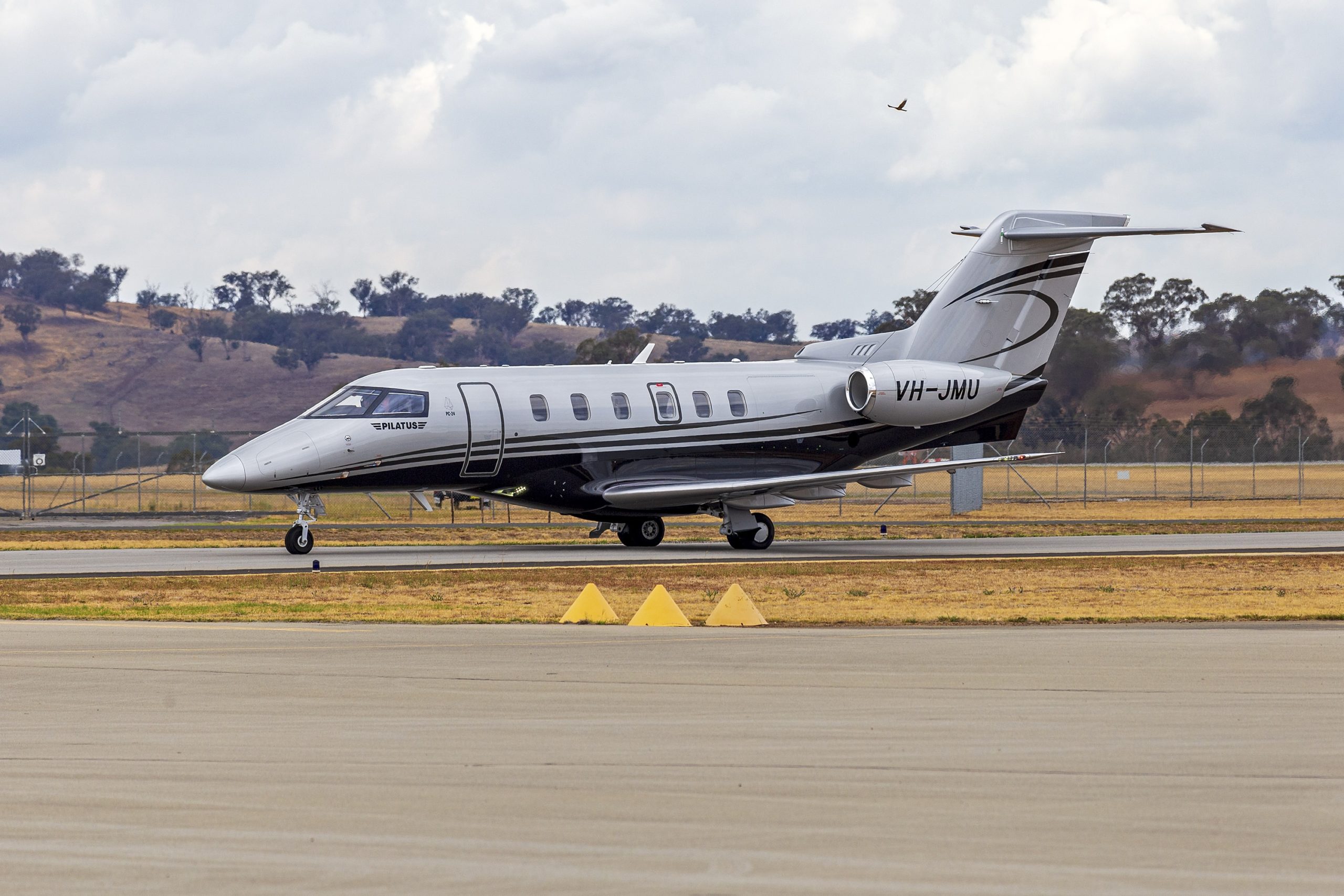 Who is the best Private Jet Manufacturer?
You don't know which private jet or which private jet manufacturer to choose for your flight? Our specialists can help you compare the different options available. Contact us anytime for information.